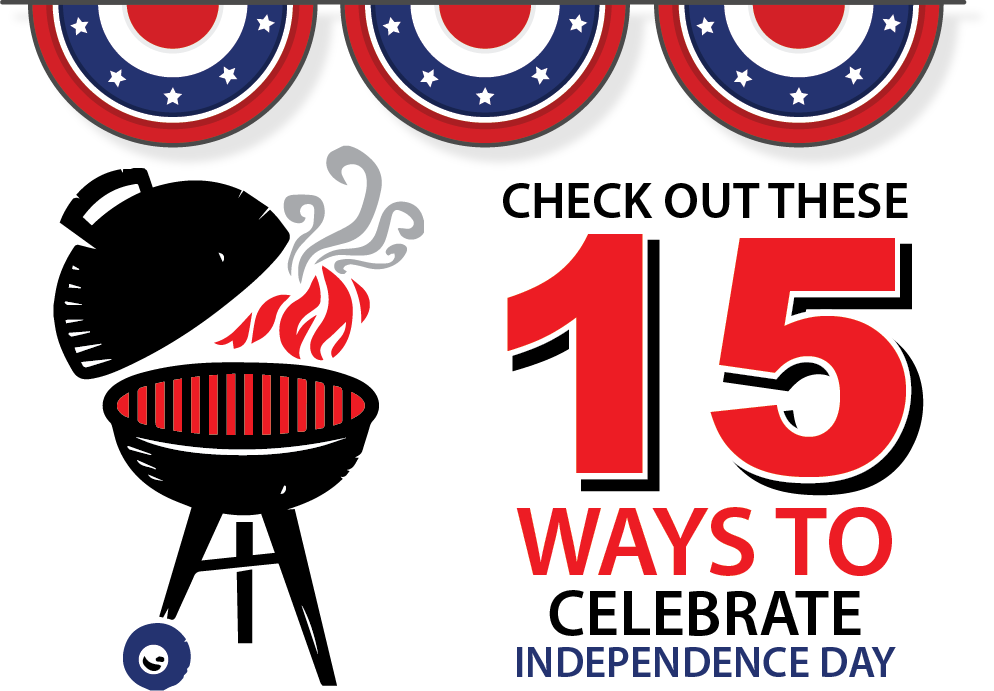 Check out this article on how you can celebrate Independence Day.
History recognizes July 4, 1776, as the day America was born. On this day, the Second Continental Congress unanimously adopted the Declaration of Independence and proclaimed freedom from British rule. The Constitution was approved in 1787, adding a then-revolutionary idea of government for and by the people.
As the forefathers had imagined, America's birthday is punctuated by public displays of patriotism, fireworks and jubilant celebrations. Researchers expect this year Independence Day celebrants will spend $6.9 billion on food and eat more than 150 million hot dogs. And no surprise, this is America's top beer drinking holiday.
Wow!
Fun has its place, but dedicating part of this holiday toward reflection and volunteerism, physical activities, and health maintenance is likewise beneficial.
Physical Activities
Spend the day outdoors. Turn off electronic devices. Visit with friends and family. Simple socializing boosts those feel good endorphins, lowers blood pressure and stimulates brain activity.
Get back to nature. Take a leisurely bicycle ride, pack a picnic, or head to the water. Whether bird watching, sailing, or relaxing in the park, being outside is the key.
Indulge in a group activity. Keep things active with a tug-of-war tournament, volleyball or croquet game. Set up a fun scavenger hunt or craft activity that children and adults of all ages can enjoy together.
Get the cardio going. Who doesn't enjoy a game of softball, soccer or flag football to work up heart rates and burn calories?
Change the pace. Find a nearby lake, beach, or forest where friends or extended family can camp together. Shared fun builds new memories.
Work at relaxing. Take out a kayak, canoe or paddleboat to get a good workout for the arms and a relaxing vibe just being out on the water.
Reflection and Volunteerism
Do good to feel good.
Consider how individually we can contribute to the premise of "life, liberty, and the pursuit of happiness" for all.
Reflect on the meaning of the day. Read the Declaration of Independence with family and friends. Discuss what it means to stand up for personal principles. Did you know, eight of the 56 signers were born in Britain, not in the colonies?
Take time to honor veterans. Offer the gift of time and friendship to those who fought for America. Join a parade.
Small gestures count. Contact local military bases and support deployed military. Send notes. Prepare care packages. Check online resources like www.soldiersangels.org for other ideas.
Donate time. Food banks, soup kitchens and shelters welcome contributions. Offer time, supplies and money to support less fortunate individuals.
Relive history. Visit historic American Revolution sites. Attend re-enactment events and study history books.
Health Maintenance
Give thanks for freedom, and then express your independent nature in healthy ways by doing the some of the following:
Connect to your spiritual self. Engage in daily rituals and practices be it meditation or yoga. Share time with like-minded souls. Savor life and quiet moments every day.
Give people your full attention. Share stories, laughter and friendship with elderly relatives, neighbors, and family you don't see often enough. Conversation increases energy, brightens moods, releases stress, and makes a person feel important and understood.
Hydrate for health. Follow the 70/70 Rule: Sip lots of water while participating in activities when temps and humidity are 70 or higher for that is the dehydration danger zone. Also, avoid alcohol-induced dehydration by alternating each cocktail with water or a decaf soda.
Protect your body. Wear sunscreen for protection from UVA and UVB rays. Sunburns increase risk of skin cancer by a factor of 12 times. Exposure to noise levels over 85 decibels (dB) like loud marching bands can damage hearing; fireworks typically exceed 150 dB. Use ear protection yourself and especially with babies and toddlers.
Trust your instinct. Staying home and lounging on the patio with your best friend might be just what you need.
On this day indulge a little, and celebrate freedom your way.